Etalon 2010 - 3 : Millar, une star internationale à Champeix!
>>Retour aux actualités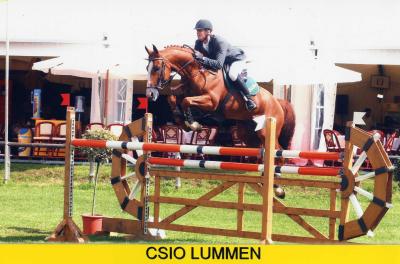 Et voilà la surprise du chef! Le Haras de Champeix va distribuer cette année une star internationale du saut d'obstacle, un gagnant du Sire of the World, de Coupe des nations et de Grand Prix CSI***: le BWP Millar.
Millar, l'extase!
Millar est un étalon alezan de 1,66m de race BWP mais aux origines très françaises puisque son père est SF et son grand père aussi.

Du coté de son père, Quick D'argentan, gagnant en complet et cso, c'est le sang d'Isengrain, connu en Belgique sous le nom d'Iseng et père de nombreux gagnants... en saut d'obstacle mais aussi en complet. Sa grand mère paternelle, Argentanaise est elle aussi sortie en cso avant d'être à l'origine d'une très bonne souche de gagnants. Ainsi le grand Rosire, étalon national ISO 177 est un petit-fils de cette fameuse Argentanaise. Cette fille de Furioso a aussi engendré Furiosa ISO 150. De ce côté de la souche, on retrouve Efigy la Gravelle ISO 131, Gloriosa ISO 131, Hurioca ISO 151, Jakaranda ISO 124, Quariosa ISO 131 ou encore l'étalon champion de hunter et performer Laudator ISO 152.
Mais c'est aussi Argenta du Plessis ISO 134, Calin du Plessis ISO 137.

Eolienne, la fille de Argentainaise et mère de Rosire a, elle même, engendré Jasmin B C ISO 141, Kankale ISO 143, Geole du Bousqueau ISO 135.


Du côté maternel, Millar est issu de la jument BWP Anna par le célèbre Etretat SF. Etretat n'est autre que le père du fantastique Big Ben. Anna, propre soeur de Big Ben, qui a aussi produit Candy, gagnant en Belgique, est la 1/2 soeur de la célèbre grande championne de concours complet et mère et grand mère de champion de concours complet: Britt. Britt est classée aux JO de Barcelone sous la selle de Karine Donckers. Elle est issue d'Isengrain!!! Anna est en outre la propre soeur d'une autre grande championne de complet montée par Karin Donckers: Jenna. Jenna est à l'origine de Palmyra gagnante en CCI***. Britt a, elle, produit une autre fille appelée Jenna mais aussi Ibritt, Hibritt et pour finir l'étalon Lord Britten. Toutes les juments ont concourru à haut niveau international de complet.

Millar, qui tient son nom d'un hommage au cavalier de Big Ben Ian Millar, est donc un étalon moderne, performer et présentant un papier inédit mais reconnu en France, tant pour la discipline du cso que du complet!
Ses 1ers produits tournent en belgique avec facilité, geste et locomotion.

Palmares: (jusqu'à son exportation aux USA)
2006 19° Grand Prix Mixed comp. *** CSI Kuala Lumpur Guillermo Obligado

2005
2° 1.40 Accumulator *** CSI Liegi James Peeters
3° 1.40 Two phases **** CSI Maastricht Harrie Smolders
4° 1.50 Against the clock **** CSI La Coruña James Peeters
4° 1.40 Accumulator *** CSI De Steeg James Peeters
4° 1.40 Two ph. (tab. A/C) **** CSIO Lisbon James Peeters
5° Grand Prix Mixed comp. *** CSI Saint Lô James Peeters
5° 1.50 Mixed comp. ***** CSIO Lummen James Peeters
5° 1.45 Against the clock *** CSI Lons le Saunier James Peeters
6° Grand Prix Two rounds **** CSI La Coruña James Peeters
7° 1.45 Mixed comp. CSI-W Mechelen Harrie Smolders
7° 1.45 Accumulator **** CSI Maastricht Harrie Smolders
8° 1.45 Mixed comp. CSI-W Mechelen Harrie Smolders
8° Grand Prix Mixed comp. *** CSI Lons le Saunier James Peeters
9° 1.45 Baton relays *** CSI Chantilly James Peeters
9° 1.50 Speed and handiness **** CSIO Lisbon James Peeters
9° 1.45 Against the clock **** CSI Madrid James Peeters
12° Grand Prix Two rounds **** CSIO Lisbon James Peeters
2004
1° 1.45 Speed and handiness **** CSI Ascona James Peeters
1° 1.50 Speed and handiness **** CSIO Lisbon James Peeters
2° Stallions Mixed comp. CSI-W Mechelen James Peeters
2° 1.45 Against the clock *** CSI Vichy James Peeters
2° Nations Cup Team comp. (jo) **** CSIO Lisbon James Peeters
3° King Cup Mixed comp. **** CSI Madrid James Peeters
4° Six bars **** CSI Bagnaia James Peeters
4° 1.50 Mixed comp. **** CSIO Lummen James Peeters
4° Grand Prix Two rounds **** CSIO Lisbon James Peeters
5° Grand Prix Mixed comp. *** CSI Lons le Saunier James Peeters
6° 1.50 Mixed comp. *** CSI The Hague James Peeters
7° 1.40 Mixed comp. ** CSI Lummen James Peeters
7° 1.40 Against the clock ** CSI Lummen James Peeters
8° Grand Prix Mixed comp. *** CSI Vichy James Peeters
8° 1.40 Two ph. (tab. A/C) **** CSIO Lisbon James Peeters
10° 1.40 Mixed comp. *** CSI Saint Lô James Peeters
2003
2° 1.35 Baton relays *** CSI Liegi James Peeters
2° 1.40 Two phases *** CSI Liegi James Peeters
6° 1.40 Mixed comp. ** CSI Lier James Peeters
10° Nations Cup Team comp. (jo) **** CSIO Linz Koen Vereecke
11° Grand Prix Mixed comp. *** CSI Maubeuge Koen Vereecke
2002
1° 1.45 Top score CSI-B Stockholm Koen Vereecke
1° 1.45 Mixed comp. CSI-A Saint Lô Koen Vereecke
1° Nations Cup Team comp. CSIO-W Podebrady Koen Vereecke
1° 1.40 Mixed comp. CSIO Lummen Koen Vereecke
1° Nations Cup Team comp. CSIO Helsinki Koen Vereecke
2° 1.50 Mixed comp. CSI-B Stockholm Koen Vereecke
2° Stallions Mixed comp. CSI-A Saint Lô Koen Vereecke
3° 1.40 Mixed comp. CSI-A Palermo Koen Vereecke
4° Grand Prix Two rounds CSI-A Palermo Koen Vereecke
5° Grand Prix Mixed comp. CSI-A Saint Lô Koen Vereecke
5° Nations Cup Team comp. CSIO Drammen Koen Vereecke
7° 1.45 Two phases CSI-A Palermo Koen Vereecke
8° Grand Prix Mixed comp. CSI-B Stockholm Koen Vereecke
9° Nations Cup Team comp. CSIO Rotterdam Koen Vereecke
10° Grand Prix Mixed comp. CSIO Helsinki Koen Vereecke
2001
2° Stallions Mixed comp. CSI-W Mechelen Koen Vereecke
4° 1.45 Against the clock CSI-B Alençon Koen Vereecke
5° Grand Prix Mixed comp. CSI-A Vejer de la Frontera Kevin Gielen
2000
5° Stallions Mixed comp. CSI-W Mechelen Kevin Gielen

1999 1° Mixed comp. CSI Oslo James Peeters 2° Mixed comp. CSIO Rotterdam James Peeters
3° Grand Prix CSI Leisele James Peeters
6° G.P. Stallions CSI Lanaken James Peeters
10° G.P. Stallions CSI Bordeaux James Peeters